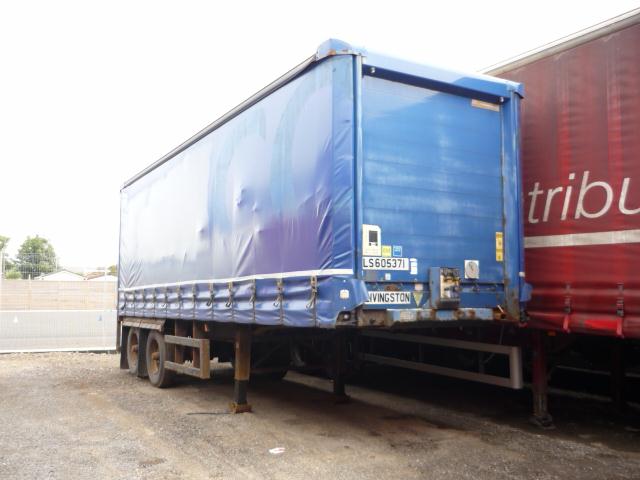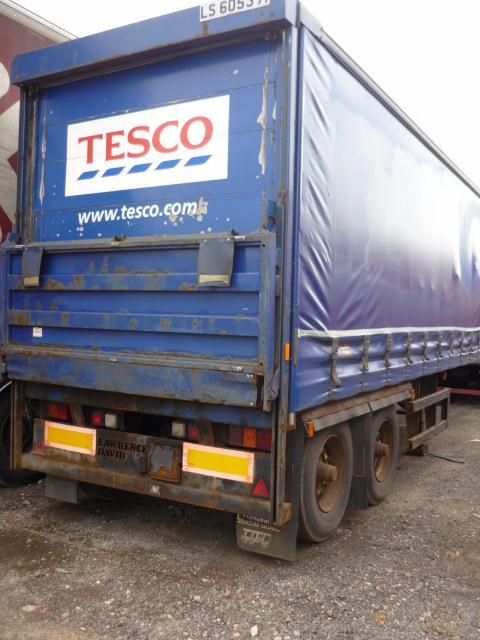 SHORT TANDEM TAIL-LIFT CURTAINSIDER FOR SALE
£/wk
SPECIFICATION

Ref: HT1467

ONE X 8Mtr MINI-TANDEM TAIL-LIFT CURTAINSIDER
PLAIN BLUE CURTAINS, TESCO LIVERY ON REAR DOOR
1997 LAWRENCE DAVID
OVERALL DIMS: 8M X 2.5M X 3.9M (1250 COUPLER)
INTERNAL LENGTH: 7.7M (25'- 3")
SIDE APERTURE: 2.3M (7'- 6")
INTERNAL WIDTH: 2.5M (8'- 1") BETWEEN CHOCKS
SOLID ALUMINIUM ROOF WITH ROOF LAMPS
ONE/SIDE ROOF SUPPORT POSTS
ALUMINIUM COMPOSITE FLOOR
CHOCK-TYPE SIDERAVES
FRONT END OPENING CURTAINS
RATCLIFFE 1.5TONNE COLUMN TAIL-LIFT
WIDE SLAT SHUTTER DOOR
BPW AXLES & AIR SUSPENSION
DRUM BRAKES
ANT-LOK BRAKING
DOCK LEVELLING FACILITY
TYRES: 11R X 22.5 (SINGLE FORMATION) APPROX 50% ON AVERAGE
PLATED WEIGHTS: 22T GVW, 6T / AXLE, 10T IMPOSED
MOT EXPIRED
KINGPIN DEPTH: 0.85M
WHEELBASE: 5.4M
REAR OVERHANG: 1.75M
NECK DEPTH: 190MM (7.5")


The trailer is currently being used for furniture storage so therefore it must be dry inside. The bodywork is clean and straight but everything below deck is rusty. However it is only surface rust and a shot-blast & paint will restore it nicely. Aluminium sideguards can be supplied loose. In terms of maintenance it has been regularly maintained by Tesco and we have not found any problems with any of the equipment received from them.

Tel: 07970 779294
Fax: 08452 805634
Text: 07970 779294
Email: sales@haulrite.com

Or please enter HT1467 (or the type of trailer you require) in the first box:-